The MSRT has supported Homes for Our Troops as our charity organization for the last six years. HFOT was founded in 2004, their headquarters are located in Taunton, Massachusetts.  Since their inception, HFOT has built 181 specially adapted homes nationwide.  Over 90 percent of all donations to Homes for Our Troops goes directly to support our veterans.
On April 18th, 2016 MSRT members attended the kick-off event for this project. We hope that you will join us in supporting HFOT and participating in future events.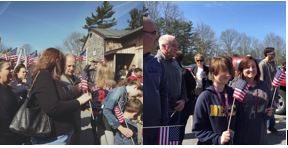 On September 20, 2014, members of the MSRT joined many others and the crew of This Old House to volunteer their time laying sod in the yard, planting shrubs or digging holes. The dedication day where the keys were handed over to SSG DeWitt and his family was fittingly held on November 8th during NRTW. It was truly a rewarding experience to be a part of this project and see how much this organization means to so many of our wounded troops.
Donate Now
If you would like to contribute the MSRT's efforts to support Homes for Our Troops please send your check payable to the MSRT with HFOT in the memo line to:
MSRT P.O. Box 2821 Duxbury, MA 02331-2821
Donations can also be made directly to HFOT on their website. HFOT is beginning a new home build in Freetown MA for SGT CHRISTOPHER GOMES http://www.hfotusa.org/gomes