MSRT Scholarship Programs
MSRT Scholarships are provided thanks to the MSRT Board of Directors and the dedicated
individuals of the Quarter Century Club (QCC) who recognize our responsibility to support the education of radiologic technologists and entry level students in the radiologic sciences.
For Technologists:
James V. Lampka Presidential Scholarship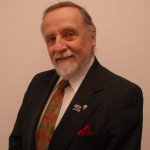 This scholarship was established in honor of James V. Lampka, a past MSRT President, QCC member and well respected educator in Massachusetts. Mr. Lampka was dedicated to the advancement of the profession, noting that education and was the key to the profession's continued success. Every year the QCC awards this scholarship to a worthy technologist who has chosen to further their education in the radiologic sciences, whether through a certificate or degree program. This professional advancement scholarship helps to ensure radiologic technologists have the financial support they need.
For Radiology Program Students:
Oliver E. Merrill/Florence Wakefield Scholarship
The MSRT Board of Directors established the Oliver E Merrill
Scholarship/Florence Wakefield scholarship in honor of two
extraordinary technologists. Oliver E. Merrill was a well respected Massachusetts educator and mentor to many RTs.
Florence Wakefield was a dedicated and respected Massachusetts technologist who gave countless hours of her time to the MSRT, acted as a mentor to many RTs, and was a student of Oliver E Merrill. The MSRT awards this scholarship annually as the Oliver E. Merrill scholarship on even numbered years and the Florence Wakefield scholarship on odd numbered years. One entry level student in Radiography, Nuclear Medicine or Radiation Therapy is selected as the recipient.
MSRT Quarter Century Club Entry Level Student Scholarship
The Quarter Century Club provides scholarships courtesy of its generous membership. The QCC recognizes the importance of providing opportunities and assistance for the entry level student. Two scholarships are awarded annually to entry level students in Radiography, Nuclear Medicine and Radiation Therapy.
Scholarship Applications
Thank you to all who have donated to support the MSRT & QCC scholarships.

Congratulations to the 2018 Selected Participants
Holly Flinn & An Thai
Program Highlights
The ASRT Student Leadership Development Program offers students a chance to get to know the ASRT, attend educational sessions, and network with medical imaging and radiation therapy professionals.
Selected participants will attend the 2018 ASRT Educational Symposium and Annual Governance and House of Delegates Meeting, June 21-24 in Las Vegas, as well as orientation the evening of June 20.
Selected participants receive:
•Airfare, housing, a stipend for meals and other travel expenses.
•An educational program designed just for students.
•A professional mentor assigned for the meeting.
•An insider's look into the largest association for medical imaging and radiation therapy professionals.
•Expanded opportunities for professional growth.
•Three years of continuing SLDP opportunities.